Archive for November 2011
Congratulations Stacey on passing your Driving Test first time today (15th November 2011) with only 3 minor driving faults, excellent drive well done!!!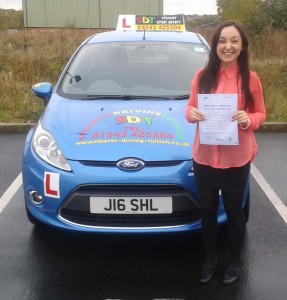 PASSED FIRST TIME!!! with just two minors and was absolutely ecstatic! Only problem is, now I have passed my driving test first time, I can not look forward to having my driving lesson with Stuart every week! Being a very nervous driver initially, Stuart's patience, skill, guidance and understanding helped to completely put me at ease, and my confidence has soared. He has consistently been punctual, above and beyond excellent and occasionally hilarious. I know Stuart's help will stay with me for a lifetime of safe driving, and I can not recommend Stuart highly enough. Thank you so much, Stuart!